This is the 3rd post in the "Heather Eats Sydney" series and the 8th in the "my waist line is expanding while my bank account is decreasing" series.
With its proximity to Asia, it should come as little surprise that Australia is home to fantastic restaurants representing a variety of Asian cuisines. From affordable, even cheap (for Australia) eats to high end restaurants, you can find something to satisfy your cravings.
After spending five months in Sydney, I'm surprised I didn't dine at more places than I did — most of which are listed below. But King Street in Newtown (a suburb neighboring my previous home of Petersham) alone has more Thai restaurants than I could have visited!
Heather + Asian Eats
I don't recall having but a few Asian meals growing up. I didn't even try Americanized Chinese until I was a senior in high school!
Before coming to Australia, Thai was probably my favorite.
That being said, my favorite place in my hometown of Charlottesville is probably Bamboo House. Most people in town have heard of it — even driven past it — but it remains a mystery to most as there are no windows facing the road and many nights of the week, only two to three cars sit in the parking lot. But when Chinese friends invited me to dinner, promising a great meal, I knew it was worth a try. The menu is half Korean and half Chinese and worth every visit I've ever made. It will be one of the first stops I make with friends when I return home.
My Asian Eats in Sydney
House Thai northeast street food
202 Elizabeth Street, Surry Hills
House is the first restaurant I took notice of in Australia. Located next door to Big Hostel (where I always stayed in Sydney), I couldn't help but walk past every day and gaze at the diners enjoying their meals in the outdoor courtyard. When I read Billy's review, I knew I just had to go. Somehow I managed to wait until my parents' visit in November!
Ask for heat, and you'll get it. My lips were tingling with the first light touch of the fork.
I've only been to House twice but it was fantastic both times. Just remember to bring cash — it's the only form of payment accepted.
The most aromatic soup I've ever had — the herbs MADE this dish.

Deep fried whole marinated snapper

With just one taste of dessert, I couldn't keep an "oh dear God" from escaping my lips. They don't call this brioche and pandan ice cream treat "BTS" for nothing.

Mamak
15 Goulburn Street, Haymarket
I heard foodies and expats alike speak of Mamak long before my first visit with Simon. A review from Perth-based The Food Pornographer gave me a few ideas of what I might order at my first Malaysian restaurant.
To drink, I had the classic teh tarik (tea) and Simon had teh halia (same tea but with ginger — I enjoyed this one even more).
The pull-apart roti canai was best with the spiciest of the three dips/sauces that came with it. Simon recommended the nasi lemak, "fragrant coconut rice accompanied by an ensemble of sambal, peanuts, crispy anchovies, cucumber and hard-boiled egg. Arguably Malaysia's national dish." We added a bit of curry chicken.
The variety in the textures of each component was nice!

For dessert – crisy roti tisu. Instead of ice cream, we asked for sweetened condensed milk to drizzle over the top. We worked on this one for ages.

Chat Thai
4 locations; I went to the 20 Campbell Street, Haymarket restaurant
After an early meal shared with Simon at Mamak, we headed to Chat Thai for a 10pm shared meal at Chat Thai. When our server asked how spicy to make the dish, Simon looked at me for approval and asked for some heat. And when it was time to take the first bite, I apparently impressed him (and slightly surprised myself) with my ability to handle it relatively easily.
The best part, though I was stuffed, was the ice bread dessert. Simon did his best to explain how good it was before it arrived, but I was skeptical. You can now call me a believer. I don't even know what the dessert really *is* other than AWESOME. Photo by Simon.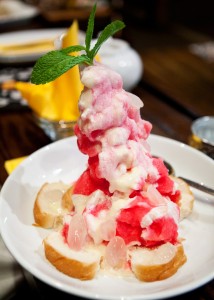 Din Tai Fung
Worldwide, 1 location in Australia at the World Square Shopping Centre in the Sydney CBD
At my first Din Tai Fung experience, I met Adam and two of his friends for lunch. Adam promised that the dumplings would be heavenly and rightly so, as one chef one said that DTF has the "world's tastiest dumplings". It only took one dumpling for me to agree.
I was too busy eating at both visits to DTF to take photos, but trust me, this place is top notch and I'd go *right now* if I could. A few of my favorite things: steamed pork dumplings, steamed vegetarian dumplings (the freshest veggie dumplings I've had anywhere), and green beans wok fried with minced pork & dried prawn mince. And I can't decide which drink I liked best — the lychee mint or the avocado juice.
Mizuya: Japanese restaurant & karaoke
Basement, 614 George Street
How many times had I walked past Mizuya before venturing down a flight of steps from George Street into the restaurant?! Simon and I skipped past the karaoke section and headed straight to a booth to order a variety of dishes to share. The menu is electronic — just touch buttons on a screen to make your way through the menu and place your order. We began with just a few small items, then ordered a two more, and then somehow ordered a couple more, because once we were completely stuffed, food kept arriving.
Soft shell crab

Marigold
In the Citymark building in Haymarket on George Street
When Grayson visited me in September for a few days from Japan, he suggested we head to Marigold for yum cha. It seems I hadn't yet found my inner foodie, as he was the one who had all of the restaurant ideas during his stay!
I don't have photos from the meal, and it wasn't particularly memorable, but it seems to be fairly popular.
Spice I Am
90 Wentworth Ave., Surry Hills (and a location in Darlinghurst)
Spice I Am was my first late-night meal in Sydney, and I'd already heard heaps of praise beforehand. Sadly I have no photos to share. No details of what we ordered. I'd like to go again now that I might appreciate the food more than before.
Let's Eat
352 Illawara Road, Marrickville
Simon and I met for the first time over thai at Let's Eat. Perhaps shy to take photos in front of a food photographer and blogger, I watched Simon snap away. I'm looking forward to his future post on Let's Eat, as I can't recall what we ordered beyond the crisp pork belly — my first time trying it! It was quite good while it was still hot, but not so nice once it cooled after we found ourselves distracted with other dishes and conversation. Lesson learned!
If you use Gowalla, you can bookmark and eventually complete the Asian in Sydney trip!
Featured image courtesy of my foodie friend of the heart of food.