This is the second post in the series "The time I went to…". I write about travel experiences that I previously shared on my OLD blog — the one only my mom and a few friends read. Bless your hearts mom, Dennis, Evan, and Gunther.
I'm sorry, Germany, but you were never on my "top 10 places to visit" list. I don't know why, but the original "top 5" list included England, Ireland, Australia, Thailand, and South Africa. Which countries rounded out the top 10, I don't recall, but I'm pretty sure you didn't make the cut.
Thankfully, a visit to Germany was still in the cards.
Back in the old school days of LiveJournal, I got to know two fabulous people who both lived in Germany and only 45-60 minutes away from one another. After knowing them both online for two years, I decided I had to to meet them in person. So in May 2007, I crossed the pond to visit friends in London for a week (who ironically I had also first connected with on LiveJournal) before heading to Germany for two weeks.
Thing I loved #1…meeting Gunther and Elle
Not only was I going to be meeting my friends for the first time, but I was also going to be staying with Gunther and traveling with him for the entire two-week trip. I sure hoped we liked each other in person as much as we seemed to get along online.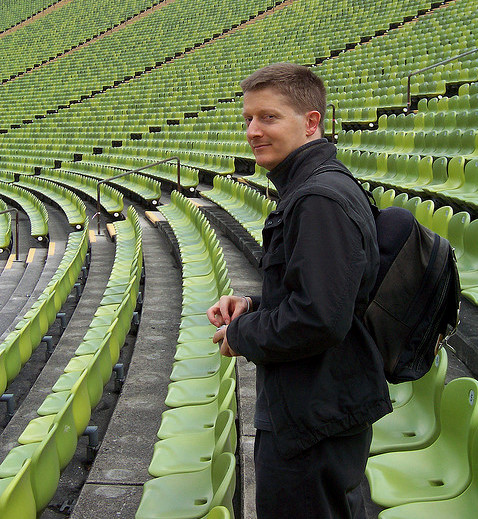 Thankfully I had nothing to worry about. Both of my pals were as sweet as can be, and we chatted up a storm…in English. The German language learning CDs I'd been listening to for weeks helped me get by with basic greetings and questions, but I was able to rely on them to play translator when necessary.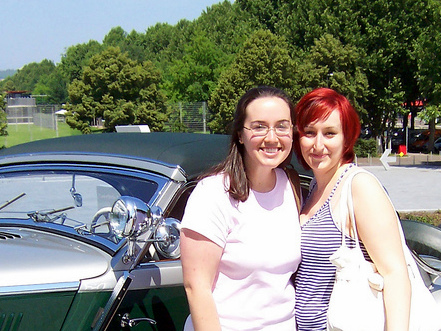 It's hard to believe I haven't seen them since 2007. I need to go set myself up in Europe one summer and reconnect with friends who live in various countries (note to self: make this a GOAL).
Thing I loved #2…listening to the language
People always say that German is not a pretty language. That it sounds harsh. I disagree.
I'm not exactly sure how I would describe it, but I absolutely loved listening to it.
When Gunther and his family gathered for dinner every evening, I quietly sat in the corner and smiled in between bites. From time to time someone would pose a question for me, and Gunther would translate. I remember thinking it was one of the most beautiful sounds I'd ever heard. And yes, I *can* sit quietly for extended periods of time…I know a few of you are in shock.
Thing I loved #3…surviving a bomb threat
Gunther and I were eager to visit Munich's Olympiapark. Shortly after we began exploring the complex and taking photos, a loud siren blasted through the speakers, making everyone in sight plug their ears. Minutes later a German voice sounded from the speakers. I looked to Gunther, whose eyes opened widely. A scratchy English translation followed, and all I could pick up was that we had to leave the park immediately for some type of emergency.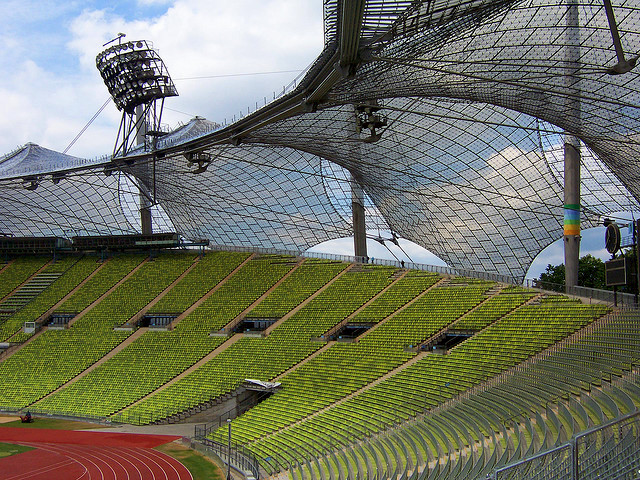 Gunther and I headed to the main gate with a couple of other folks and learned that the voice had announced a bomb threat had been called in and that we had to leave. WHOA. Everyone tried to remain calm but we all looked at one another uneasily.
When we got to the main gate, the ticket lady was just as surprised and uninformed as we were. She made several calls while we all stood around, anxiously waiting to learn more. Several minutes later, we finally learned that someone was testing the PA system with old recorded messages and had failed to notify anyone. *Facepalm* Letting go of angst and woe, we headed back into the park. Moments later the park was apparently on fire, but we did not head to the nearest exit.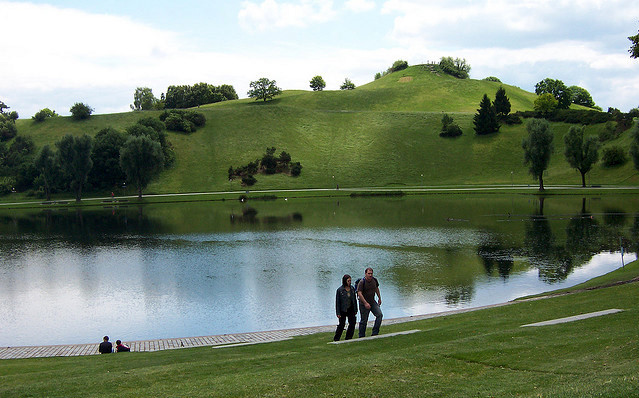 Thing I loved #4…butt and leg toning walks
I had mentioned to Gunther that I would like to do a fair amount of walking during our trips to Heidelberg, Munich, Berlin, and Stuttgart. He seemed somewhat hesitant to walk for hours on end (who wouldn't?!), so I figured we'd walk a bit here and there. Apparently he took me seriously, because in addition to walking throughout the cities, he took me up insanely steep hills (like the one to Heidelberg Castle) and around countless stair wells (climbing to the top of the tower at St. Peter's in Munich). One day in Berlin, we walked for 10 hours.
Resting and taking a few photos from St. Peter's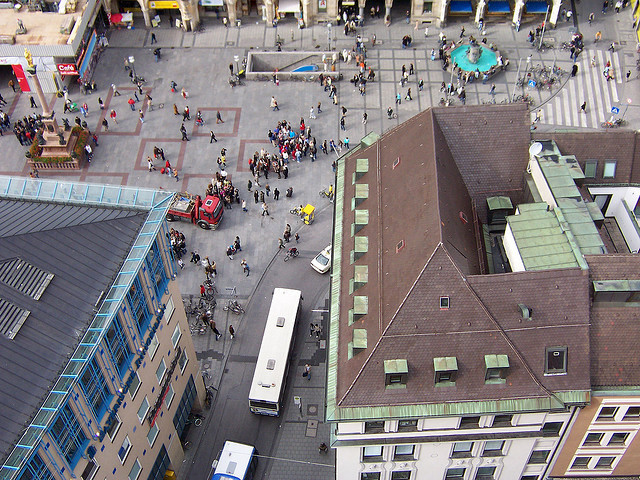 Despite all the carbs, gelato, and Banana Java Chip frappucinnos, I left Germany slimmer than I had started. Thanks Gunther!
Thing I loved #5…Banana Java Chip frappuccinos
After living in a coffee-obsessed country (Australia — NOT the US), I'm now partial to independently owned cafes than the big chains. But ya know what, sometimes the chains do it right.
On my first trips to Europe, I'd always pop into a Starbucks to see what they offered that differed from the American menu. And in the summer of 2007, it was the Banana Java Chip frappuccino. A few friends thought it sounded disgusting, but trust me, m'dears, it was heaven in a plastic cup.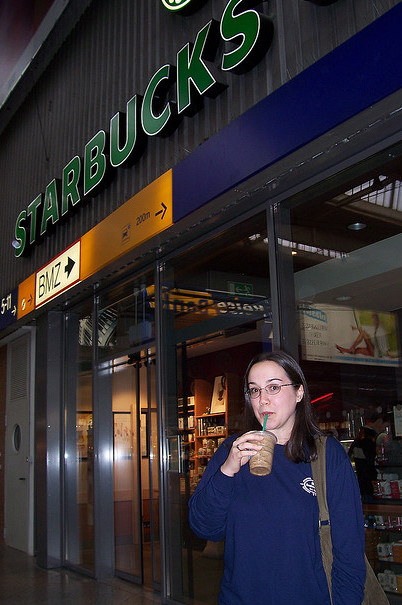 Once I learned that the Banana Java Chip frap was NOT coming to the US (I actually wrote Starbucks), I started ordering the drink every chance I had. Gunther gave me a slightly disapproving look (okay, maybe just the one time I had TWO in one day), but I figured I had earned it with all of the walking we were doing.
Thing I loved #6…feeling at home
Germany set me at ease. It felt like home. A sense of comfort and relaxation welcomed me at the airport and stayed with me throughout the trip.
Maybe it's because my mom's family heritage is mostly German and I was returning to the birthplace of many generations before me. Perhaps it's because some of the heavy lifting of trip planning was in Gunther's capable hands and I was able to let some of that go. Whatever the reason, I loved how I felt in Germany.
Or maybe it was seeing the Statue of Liberty on the top of someone's home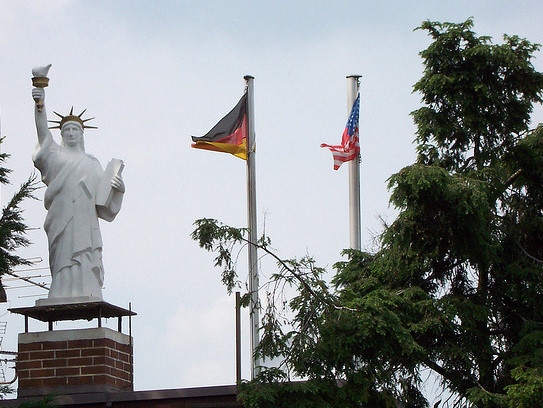 And if there's one place that MOST felt like "home" in Germany, it was Berlin. With perhaps the exception of Sydney, there is NO city I've instantly connected with the way I did with Berlin. For that reason, Berlin deserves its own post. Look for it at the same time next week!