One year ago I selected four things I wanted to work on during 2012. I didn't call them resolutions but simply my "hopes for the rest of the year".
As 2013 gets underway, I want to assess how much progress I made with these "hopes for the year" and decide what projects I want to take on over the next 12 months.
1) Regain passion for travel
Last year I shared that the travel bug had been a bit dormant.
There are still countless places in the USA and around the world I want to experience, but one year ago I was content to reacquaint myself with life at home. Twelve months later, I largely feel the same.
Maybe it's because so much in my life has changed in the last three years that something inside me craves familiarity and stability. Or maybe it has a little something to do with my current adventure — being a newlywed. I want to be fully present in the here and now, making sure Gav feels "at home" in the US and navigating all of the red tape that's before us. And I suppose it's kind of hard to save for travel when you're paying for a wedding, visa and legal paperwork, and items you used to have covered by an employer (i.e., health insurance and retirement).
We're thrilled we'll be able to go to Hawaii this May and return to England a time or two for brief visits. But for me, for now, the NEED to be on the road for months at a time is taking a back seat to everything else life is offering.
2) Identify and develop 1-2 (sustainable) sources of remote income
Last January I wanted to make better use of my "free time" to brainstorm and explore remote work opportunities. Instead, my office job changed from being three days a week to four (better for the bank account), and I had to step away from one steady writing job with Her Packing List to allow more time for wedding planning and the fiance visa process.
My office before packing up to head to Oz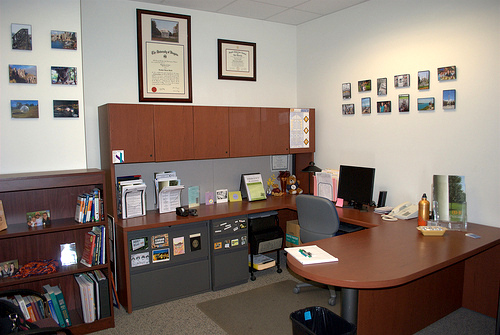 However, I do have a couple of ideas I've been thinking about for months. MONTHS. As you can guess, I've been a bit busy to hit the ground running with them. I keep saying "soon", but every time I want to start the planning, something else arises to occupy the time. Something that needs my attention first. So I'll put off my ideas until after the wedding and honeymoon and then get to work. *crosses fingers*
3) Continue exploring interest in cooking and baking
At this point you may be wondering if I made any progress with the four hopes for the year. And I'm happy to say that with this one, I did.
Chocolate macarons with raspberry mascarpone filling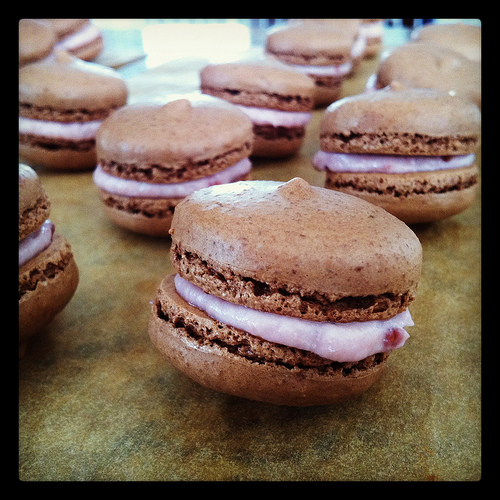 After pinning countless recipes on Pinterest, I finally started turning them into reality.
The boards have been a huge help since Gav arrived. Each week we take a look at the pins and select some meals to make for the week. Then, we create a shopping list for any ingredients we need and hit the store. We've had so much fun cooking and baking together and have found some recipes that we'll use for years to come.
I continued to make cupcakes for each family member's birthday. I tasted delicious, award winning cupcakes from The Sweet Lobby in DC (along with their macarons) and enjoyed new (to me) cafes and restaurants in London and Brighton. And though I'm not a vegetarian or vegan, I've made some people wonder with the dinners I've been making. I read recipes on a daily basis found on Pinterest, Foodgawker, and the food/recipe blogs I subscribe to.
Sweet potato marshmallow cupcake from The Sweet Lobby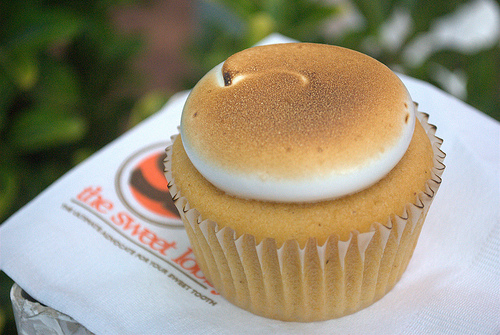 I tested a few recipes for Masterchef Australia contestant and food blogger Billy Law and would love to test recipes for someone in the future.
I already have a few foodie plans for 2013 in the works and hope I'll experience some unexpected surprises and opportunities.
4) Learn more about photography and become comfortable operating my camera on Manual
Can you hear me laughing?!
Even though this has been a goal for the last several years, I made absolutely zero progress on this one. And I hate to admit it, but I hardly used the DSLR last year. Instead, it was easy to snap a couple of casual photos on the iPhone and apply a cool filter with one of the numerous photo apps.
Last time I used the camera — 3 months ago

I really do want to learn more about photography and better make use of my camera, but this is no longer at the top of the list. I like to think I'll make time for all of my goals and projects, but I'm learning that I can only spread myself so thin with taking on new things. Perhaps I'm learning how many different projects I can reasonably take on before one or more starts to suffer.
What's on for 2013?
Although I didn't make as much progress with the 2012 projects as I would have liked, I still want to set some fun and big goals for 2013. In my next post, I'll share what they are — and I'm still trying to figure that out!